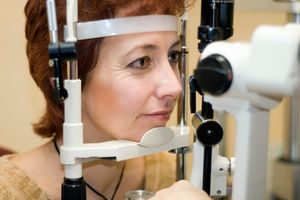 An eye exam is recommended yearly for everyone. If you are not generally in good health, have a family history of ocular disease or diabetes, or you are currently on medication that could cause side effects on your eyes, then eye care experts recommend evaluations that are more frequent.
At Horizon Eye Care & Optical, our optometrist provides through WellVision eye exams in our Sugar Land office. These examinations consist of much more than a quick assessment of your vision. Our eye doctor will perform a refractive exam and check your vision comprehensively to see if you need prescription eyewear or to confirm your vision prescription.
In addition to vision testing, we will inspect your eyes closely for any signs of an ocular health problem, such as macular degeneration, glaucoma, cataracts, retinal tears or holes, and diabetic retinopathy. If we notice that you have signs of any of these eye diseases, you will be instructed to book a follow-up comprehensive eye exam in order to design an effective treatment plan.
Along with looking for eye disease, your eye exam in Sugar Land serves as an important medical diagnostic assessment. It can reveal the presence of an undiagnosed health condition, such as high blood pressure, diabetes, and high cholesterol, because all of these conditions can appear on the inner tissues of your eyes. Therefore, a WellVision eye exam accomplishes three important functions:
It can help you see clearly
It can detect signs of many common health conditions
It can diagnose or rule out eye disease
If you have vision insurance, your routine WellVision eye exam in Sugar Land will usually be covered once a year.
We encourage all of our patients to be proactive and preventative about vision! Taking care of your eyes should always be an essential part of your regular healthcare regimen.